> Home
Web Extras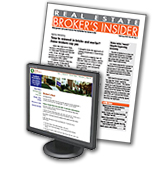 Each month, Real Estate Broker's Insider brings you proven strategies for growing your business and increasing your profits.
We often have valuable background material, additional information, or related resources that we just can't fit in the newsletter. These are presented below.
Learn more about Real Estate Broker's Insider.
October 2018
Broker uses perks, fun to attract agents, build company — At Pepine Realty in Gainesville, FL, they try to keep things fun. The same is true at Davidson Realty. Read Sherry and Jim's story here.
Company's emphasis on dual agency yields lawsuit — A new lawsuit says there's a dark side to brokerage Houlihan Lawrence's growth. See the lawsuit here.
September 2018
Realtors in low-tax states target tax-weary buyers — Realtors increasingly are focusing on the tax savings that could be reaped by wealthy homeowners who move from states with high taxes to states which collect no state income tax. See a state-by-state ranking of tax burdens.
Millennials, a huge generation, continue to confound expectations — While most millennials have entered peak household formation and homebuying years, they are becoming homeowners later and at lower rates, the Urban Institute says. Click here to read the full report, Millennial Homeownership.
August 2018
Is commission competition alive and well? Answer is still unclear — See Real Estate Broker's Insider's most recent roundup of commission trends.
Opendoor raises big money from investors — Opendoor, the iBuyer platform that promises to revolutionize home selling, in June raised $325 million to expand its business. Watch Opendoor's television ad targeted at sellers.
July 2018
Granny flats gain acceptance in pricey cities — With housing affordability a challenge in many markets, one alternative is mini-houses or granny flats. Learn about the history and current use of granny flats.
June 2018
Realtors associations collect more revenue, average CEO pay stays the same — The nation's 70 largest Realtor organizations collected $672 million in revenue in 2016, and they paid their CEOs nearly $24 million. See our interactive graphic showing revenue and compensation for 71 large Realtor associations.
Home prices in many cities hit new records — Median home prices in 57 of 105 large metro areas rose above their pre-recession peaks in the first quarter of 2018, according to ATTOM Data Solutions. See where your metro area ranks.
May 2018
As cryptocurrency gains attention, some brokers experiment with bitcoin deals — In March, Realtor.com listed 37 properties being marketed by sellers accepting bitcoin. Here is a useful primer on cryptocurrency.
April 2018
Homeownership rate bounces back — After hitting a generational low in 2016, U.S. homeownership has been bouncing back. See an interactive chart of homeownership trends.
March 2018
Broker-to-Broker Recommended Reading — The Seven Habits of Highly Effective People by Steven Covey. Click here to read part one.
Mansion seller sues Zillow over hidden Zestimates — In the latest bit of pushback against Zillow, the owner of a New Jersey mansion has filed an antitrust suit against the creator of Zestimates. Read an archive article, Homeowner sues Zillow over "sloppy" value estimate.
February 2018
Broker-to-Broker Recommended Reading — The Hard Thing About Hard Things by Ben Horowitz. Click here to read chapters one and two.
January 2018
Family of slain Realtor sues broker for negligence, wrongful death —
Three years after Arkansas agent Beverly Carter was murdered while showing a home, her family sued her brokerage, claiming the company bears part of the blame. See a copy of the Carter family's lawsuit.
Off-market listings soar in some markets — Most homes for sale are posted on multiple listing services, but a few metro areas are seeing high numbers of pocket listings. Read an archive article that gives a brief background on pocket listings.
Broker-to-Broker Recommended Reading — The Go-Giver by Bob Burg and John David Mann. Click here to read chapters one and two.
December 2017
As cybercrime proliferates, here's how to stay safe —
There are ways to make your company and your agents harder targets for cybercriminals. Read the Data Security and Privacy Toolkit created by the NAR Legal Team.
November 2017
So many leads, so few closings: Tips for converting online prospects —
If you're paying for online leads but not following up on them promptly, professionally, and persuasively, you're wasting your precious marketing budget. Watch a video showing Rachel Adams' online lead conversion tactics.
Fewer than half of brokers have clearly communicated safety policies — The National Association of Realtors has made agent safety a priority after the murder of Beverly Carter, an Arkansas agent who was killed in 2014 while showing a home to criminals posing as buyers. See the NAR's 2017 Member Safety Report. (Registration required)
October 2017
WOOP: Four steps for truly harnessing the power of positive thinking — Empirical studies show the impact of positive thought is more complex than many self-help gurus suggest. See Gabriele Oettingen speak about the limits of positive thinking.
September 2017
Realtor association revenue growth outpaces CEO pay in 2015 — The nation's 60 largest Realtor organizations pulled in some $600 million in revenue in 2015, and they paid their CEOs more than $20 million, according to Real Estate Broker's Insider's annual analysis of tax returns filed by national, state, and regional associations.
August 2017
With in-office coffee bar, high-traffic location, young broker goes old-school — California broker Troy Palmquist owns The Address in Oxnard, CA, and his first office is in a high-traffic retail space. See photos of his Starbucks-like space which includes a leather couch and a bar with coffee, beer and kambucha on tap.
Commissions will remain under intense pressure, industry disruptors say — Real estate commissions mostly have defied the predictions of the doomsayers who anticipate brokerage fees will plummet. But the onslaught continues, this time from British discounter Purplebricks, which plans an ambitious expansion into the U.S. real estate market. Learn more about the Purplebricks British invasion.
July 2017
Homeowner sues Zillow over "sloppy" value estimate, predicts more pushback — Since 2006, Zillow has been posting "Zestimates" of property values and for just as long, homeowners and agents have griped about what they consider inaccurate estimates. See disgruntled seller Barbara Andersen's lawsuit against Zillow.
June 2017
With inventories tight, try door knocking — If your buyer is eager to buy but faces a lack of inventory, get aggressive about ferreting out homes that aren't on the market. See more tips from sales coach, Tom Ferry.
ALTA warns consumers of scams — Home buyers are being targeted by wire fraud schemes aiming to poach funds for real estate closings. The Federal Trade Commission provides the publication, Start with Security: A Guide for Business to help business owners protect themselves.
National home prices hit another record — See a comparison of hot and cold markets in the U.S.
May 2017
British discounter plans ambitious expansion into U.S. market — Purplebricks Group, a company that has ruffled feathers in Britain's real estate market, says it aims to spend $60 million to expand in the United States. Watch some of Purplebricks' cheeky adverts.
Underwater homes mostly disappear — Did your state gain or lose? See an interactive map of the large metro areas with the most and fewest underwater homeowners.
April 2017
Home improvement gains momentum — The Improving America's Housing 2017 report by Harvard's Joint Center predicts improvement in household formation. Read the full report here.
March 2017
Amid increasing pressure on brokers, merger activity accelerates — Merle Whitehead, president and CEO of RealtyUSA has completed well over three dozen mergers. Click here to read his tips.
February 2017
Utah leads nation in population growth — Did your state gain or lose? Check our interactive map of population growth patterns.
January 2017
What will 2017 bring? — See a chart of demographic trends for U.S. homebuyers.
December 2016
Hard-nosed approach? Discount brokers tout savings by cutting out buyer agents — Amid a renewed focus on discounted commissions, a new breed of brokers is offering a sharp-elbowed way for sellers to save money. The strategy: Cut buyers' agents — and their 3 percent commissions — out of deals. Watch a marketing video from 3in3 Realty that explains this idea.
November 2016
Leader of fast-growing team uses old, new strategies to drive expansion — Bob Lucido of Keller Williams Integrity was skeptical of predictive analytics until he decided to give it a try. He phoned owners pinpointed by analytics, and was surprised to learn that many were in fact considering a move. For more on how brokers are using this technology, read the archive article, Real estate industry turns to predictive analytics to refine marketing efforts.
Affordability ranges widely by city — See a map showing city-by-city affordability levels.
October 2016
Century 21 dominates J.D. Power survey yet again — J.D. Power graded five national brokerage brands on a 1,000-point scale that considers such factors as the service provided by the agent, the quality of the agent's office, and the ease of the closing process. See the full rankings.
September 2016
In new wave of consolidation, merger activity heats up — The summer buying season was an active one, as consumers snapped up homes. Brokers did some shopping of their own, as evidenced by several announcements in July of large mergers. Read an archive article on Merle Whitehead's tips for successfully negotiating mergers.
Broker experiments with Internet lead routing, navigates "difficult dance" — Brokers around the country have struggled to make sense of Internet leads. At Long Realty in Arizona, broker Rosey Koberlein created an "iTeam" — for "Internet team" — of agents whose sole focus is to work Internet leads. Learn about the iTeam here.
July 2016
Changing of the guard at your company? Start early, this broker says — Call it the curse of succession planning: No matter how precisely the parties lay out their plans, it's not an easy process. Read an archive article about family succession planning here.
Gulf continues to widen between most expensive, cheapest housing markets — In a trend that threatens geographic mobility, home prices in some fast-appreciating markets are way out of reach for denizens of flyover country. See a chart showing prices in fast- and slow-appreciating metro areas over the past 20 years.
Texas cities lead in population growth — Texas cities small and large were among the fastest-growing in the nation from 2014 to 2015, according to estimates by the U.S. Census Bureau. Click here for a map of the nation's boomtowns and ghost towns.
June 2016
Realtor association revenue, executive pay on the rise — The nation's 60 largest Realtor organizations pulled in more than half a billion dollars in revenue in 2014, and they paid their CEOs more than $20 million. That's according to Real Estate Broker's Insider's analysis of tax returns filed by national, state, and regional associations. See the interactive charts below:
May 2016
Brokers say online testimonials are scary at first, useful in long run — Want to solicit testimonials on your own? Asking the right questions is essential, says Matthew Bush of online marketing firm Placester. See his blog post here.
Always list on Thursday, never Sunday, and other lessons from Redfin's data dive — Redfin finds that homes listed on a Thursday sell for an average premium of $1,258. Wednesday is the second-best day of the week; homes listed then bring an average premium of $876. Read the Redfin blog post on spring selling tips here.
April 2016
Commission rates fall to record lows, but higher sales volumes offset squeeze — A new breed of real estate startups is putting renewed pressure on real estate commissions. SoloPro, for instance, markets itself as a platform that connects price-conscious consumers with agents who are willing to work for less than full commission. See SoloPro's commercial targeting real estate commissions here.
Broker's in-house interior design studio boosts business — @home Real Estate uses design studio to lure clients and protect commissions. See photos of the studio.
March 2016
Military discipline drives brokerage's growth — Todd Hetherington, owner of Century 21 New Millennium of Alexandria, VA, attributes his success in large part to his hiring strategy. He's picky about agents, and he prefers to hire managers from outside the real estate industry. For more about Todd Hetherington's unconventional approach to hiring managers click here.
Broker finds success with do-it-yourself Facebook ads — Social media is all about consistency. Try using John Mayfield's social media checklist.
Home sales to cool in 2016 — After robust growth in home sales in 2015, the housing market is likely to take a breather in 2016, the National Association of Realtors predicts. View an infographic outlining NAR's 2016 forecast.
February 2016
If middle class is disappearing, how might housing market change? — Income inequality is widening, and the middle class is shrinking. If these trends continue, there simply might be fewer Americans who can afford to buy homes. See the Pew Research Center's report on the dwindling middle class here.
January 2016
Safety step No. 1: Insist on ID from all new clients — Showing homes has long been a risky occupation, but the dangers faced by Realtors grabbed headlines in 2014, when an Arkansas agent was murdered by a man posing as a buyer. See a safety quiz that you can use to train your agents.
Coaching tips: Dealing with tough clients — The National Association of Realtors offers 10 Tips for Dealing with Difficult Clients.
December 2015
Taking a page from Uber, broker offers open houses via smartphone — Agents at Marketplace Homes in Detroit don't conduct home tours in person. Instead, they let buyers into listings remotely, then answer questions via smartphone video. See their TV ad here.
As feds loosen rules, drone footage of listings grows more common — As the Federal Aviation Administration relaxes rules on commercial use of unmanned aerial vehicles, drone footage has grown more common in real estate marketing. Click here to see drone video of two high-end listings.
Weak income growth undermines housing recovery — In the past four years, home prices have jumped 34 percent nationally. In the same period, household incomes rose only 2.5 percent. That mismatch has undermined the housing recovery, and the disconnect has created affordability challenges for middle-income workers. How much are prices up in your state? See an interactive map here.
November 2015
New mortgage rules expected to create early hiccups — Under the federal "Know Before You Owe" guidelines, familiar closing documents have been replaced with new forms known as the "loan estimate" and the "closing disclosure." The goal of the new forms is to help consumers shop around and more easily understand the costs of a loan. See a copy of the new loan estimate form.
October 2015
RE/MAX teaches brokers how to coach agents — again — The real estate industry has spawned a cottage industry of independent coaches who work one-on-one with agents. RE/MAX Regional Services is offering an alternative to that model: It's teaching brokers how to coach agents. Read an excerpt from RE/MAX Regional Services' coaching materials here.
Banks step up repos — Bucking the trend of a healthier housing market, foreclosure filings jumped 14 percent from July 2014 to July 2015, RealtyTrac says. Click here to see a state-by-state map of foreclosure rates.
September 2015
Century 21 sweeps top spots in J.D. Power survey — again — J.D. Power's rankings looked at five national franchises: Berkshire Hathaway HomeServices, Century 21, Coldwell Banker, Keller Williams, and RE/MAX. See the full rankings here.
Millennials favor walking, biking over driving — Millennials prefer walking over driving by a wider margin than any other generation, according to a poll by the National Association of Realtors and the Transportation Research and Education Center at Portland State University. Click here for an infographic.
August 2015
Feeling tired? One of the eight "brain-aging sins" might be to blame — Overwork is a costly mistake that can leave you old beyond your years, argues Marcel Daane, an expert in neuroscience and performance. Watch his video Why My Brain Hates Exercise.
July 2015
Mind the gap: Gulf widens between most expensive, cheapest housing markets — As recently as 1997, the typical home sold in San Francisco cost only 2.5 times as much as the typical home sold in the United States. Fast forward 18 years, and the median-priced crib in San Francisco ($907,000, according to the National Association of Home Builders) costs four times as much as the typical home nationally ($210,000). See an interactive map comparing how much income is needed to buy a typical house in 30 cities.
June 2015
Creativity, willingness to fail characterize tech-savvy broker's approach — Taking its cues from Silicon Valley rather than real estate brokerages, the Better Homes and Gardens Go Realty office boasts an open floor plan and hip décor. See a brief video tour of the office.
At Realtor associations, revenue bounces back, CEO pay dips — While the nation's 40 largest Realtor associations saw revenue growth, they paid their CEOs less. CEO pay fell 5.8 percent in 2013. See Real Estate Broker's Insider's interactive graphic showing revenue and compensation for 40 large Realtor associations.
May 2015
Want to move a mansion? Try making it the star of its own movie — When it comes to marketing mansions, the standard package of crisply shot photos, glossy brochures, and online ads are old hat. The next big thing? A professionally shot movie to market the property. Click here to see one of Film House's marketing movies.
Sun Belt posts population increases, while Rust Belt loses — Metro areas in Florida and Texas are gaining population and adding jobs, while Detroit and Cleveland are losing people and lagging in job growth, according to the latest figures from the Census Bureau and the Labor Department. See Real Estate Broker's Insider's data visualization of home-value trends in major metro areas.
Start-up brokerage turns profitable — eXp Realty of Bellingham, WA, says it turned a profit of $103,843 in 2014, compared to a loss of $1.1 million in 2013. Click here to read "Cloud-based" brokerage goes public, sells shares to agents from the April 2013 issue of Real Estate Broker's Insider.
April 2015
Looking for a smoother succession plan? Pitfalls abound — Succession planning is a tricky issue even for large and sophisticated companies, but it can be especially fraught for real estate brokers, who often lack the expertise to pick and groom their replacement. Click here to read the archive article Five Steps to a Succession Plan.
March 2015
Stroking egos, buying PayDay bars, and other tips for filling seats in your company — Denise Lones of The Lones Group shares her spreadsheet for keeping track of agent recruits. Page 1 includes instructions, page 2 helps you track your progress.
Realtor wins FAA's approval to use drone to take pictures of his listings — Realtors have been clamoring for federal permission to use drones to create marketing materials for their listings. Read Real Estate Broker's Insider's coverage of the drone debate, To use drones or not? Brokers who brave the skies face nasty letters from FAA.
As more agents start teams, learn to coach them through management challenges — With real estate teams all the rage, savvy brokers are learning how to coach successful agents through the process of building a multi-person sales operation. Click here to see Pam Ermen discuss the five stages of business growth.
February 2015
Burned out? Follow these habits to boost energy and get out of your rut — The real estate business isn't getting any simpler or easier. But that harsh reality need not be depressing, says Jon Gordon author of the bestseller The Energy Bus: 10 Rules to Fuel Your Life, Work, and Team with Positive Energy. Click here to see Gordon's Energy Bus Action Plan.
Seven strategies for landing listings in a seller's market — Inventory is tight in much of the nation, creating what real estate coach Bruce Gardner calls "a raging seller's market." That means listings are at a premium — and if your agents learn how to land listings (even if that means door-knocking), they'll do well. Read the archive article Broker requires agents to knock on doors, and leads by example.
January 2015
Safety takes center stage after murder of agent — After the murder of an agent in Arkansas grabbed headlines, Jason Wegener, a martial arts instructor and Realtor, began teaching agents in Louisiana how to defend themselves. See Wegener demonstrate self-defense strategies here, and view NAR's video about agent safety here.
December 2014
Wave of marijuana legalization raises disclosure issues, creates conflict between federal, state laws — The legalization of pot has brought Colorado's cannabis cultivation out of the shadow. It also has created what Denver broker Jack O'Connor calls "a disclosure nightmare." See the Institute of Real Estate Management's white paper on marijuana legalization.
November 2014
Critic of Zillow, Trulia, Realtor.com changes course, uses sites again — In 2011, Edina Realty emerged as the poster child of a growing backlash against Zillow, Trulia, and Realtor.com, the three largest sites for home listings. Read the archive article As battle rages over online listings, two big brokers pull properties from sites.
October 2014
NRT buys property manager, emphasizes rentals — but it's not an easy business — NRT, a division of Realogy Holdings, this summer bought a large property manager in Texas and formed a national operation to handle rentals. Read the archive article Thin margins but steady income lure broker into property management.
September 2014
To use drones or not? Brokers who brave the skies face nasty letters from FAA — Patrick Parker, head of the 20-agent Patrick Parker Realty in Bradley Beach, NJ, turned to drones as a way to offer something new and different to clients, and to signal his agency's willingness to stay on the cutting edge of technology. See how the drone footage is incorporated into a traditional video.
August 2014
Zillow overtakes Realogy as industry's most valuable company — Zillow may be seen as an interloper that makes unreliable judgments about home values, but the company is a Wall Street darling. See an infographic that shows the growing financial power of Zillow.
July 2014
At Realtor associations, revenue bounces back, but CEO pay climbs more — Click to see an interactive graphic showing revenue and compensation for 25 large Realtor associations.
Realtor.com: Our listings are right — In an obvious swipe at Zillow and Trulia, Realtor.com is launching a national advertising campaign titled Accuracy Matters. See a Realtor.com ad.
June 2014
Real estate industry turns to predictive analytics to refine marketing efforts — Jay Macklin, part of a husband-and-wife team at RE/MAX Platinum Living in Scottsdale, AZ, has been using SmartZip Analytics to decide which homeowners to call. In the first year, he closed six deals as a result. Here is the letter and postcard that he sends to prospects.
May 2014
Gen Y upbeat about housing market — They face high unemployment rates and daunting student debt, but young home buyers remain optimistic about the housing market, the National Association of Realtors says. Read the report, Home Buyer and Seller Generational Trends.
April 2014
To build video presence, forget your embarrassment and just do it — Two or three times a week, Jessica Edwards posts a video of herself discussing the real estate market in Wilmington, NC. Click to see some of Edwards quick-and-easy videos.
"Cloud-based" brokerage goes public, sells shares to agents — Virtual brokers have been popping up nationwide, but broker Glenn Sanford serves up a new twist on the low-overhead model. See Sanford discuss his cloudbased brokerage model in this video.
March 2014
Syndicator bashing continues as brokers in Tennessee, Texas ditch Zillow, Trulia — Crye-Leike Real Estate Services cofounder Harold Crye could hardly be madder at Zillow and Trulia. He's yanking listings from the aggregation sites and publicly accusing the companies of extortion. Crye is not the first to leave the syndicators. Learn about Edina Realty's decision to leave Zillow, Trulia, and Realtor.com in this archive article.
Home flipping makes a comeback — In a trend that promises more transactions for deal-hungry agents, home flipping increased sharply in 2013. See RealtyTrac charts illustrating flipping trends.
February 2014
Renting gains ground, Harvard study says — The nation's share of renters grew from 31 percent in 2004 to 35 percent in 2012 as millions of Americans found themselves unable to qualify for mortgages, according to a new report by Harvard's Joint Center for Housing Studies. Read the report: America's Rental Housing: Evolving Markets and Needs.
January 2014
As pocket listings reach "epidemic" levels, experts worry about legal, ethical pitfalls — In some parts of California, more than a quarter of homes go up for sale without being marketed in the multiple listing service.
The surge in so-called pocket listings has created no shortage of consternation in the real estate establishment. Critics of off-MLS deals worry that agents are placing their own commissions ahead of the goal of getting the best price for sellers — and perhaps putting the entire industry at risk. View Elizabeth Miller-Bougdanos' presentation to the California Association of Realtors.
December 2013
Broker uses lead-tracking software to track conversions — After tracking the performance of his agents, Broker Larry Dean has set up an "ideal" lead follow-up schedule. The five steps appear in the December issue of Real Estate Broker's Insider. See a brief demo of the Pipeline ROI software.
With inventories still low, agents forced to get creative to find listings — Read this archive article on how one broker is succeeding with off-market transactions.
Flat-fee broker wins clients with $1,700 listing fee — Agents get leads through the company's social media and internet advertising programs. Click to hear Trelora's radio commercial.
Flood insurance rate hikes roil resale market — New rules for flood insurance have caused price spikes for homeowners and scotched sales for Realtors. One reason for a price increase is lack of an elevation certificate. Click here for FEMA guidelines on elevation certificates.
November 2013
In unusual offering, broker renovates houses, then lists them — Renovation Realty of La Mesa, CA, has taken the popular practice of staging homes a step farther. It performs full-fledged upgrades, such as replacing bathrooms, upgrading kitchens, and replacing carpet. See how Renovation Realty advertises its unique service in this television commercial.
October 2013
At Realtor associations, CEO pay falls slightly, but revenue drops more — This year, the nation's nonprofit Realtor associations put the lid on ever-rising pay for top executives. See Real Estate Broker's Insider's exclusive analysis of revenue and compensation for 25 large Realtor associations.
Online listing sites key to one broker's success, local TV ads drives another's — For McGeough & Lamacchia Realty in Waltham, MA, local television ads have proven a lucrative source of leads. The company bombards the local airwaves with ads, spending a sum Anthony Lamacchia describes as "in the high hundreds of thousands a year." View ads here.
Meanwhile, Ben Croushore, owner of Prudential Preferred Realty in Pittsburgh, is paying for featured listings on Zillow, Trulia, Realtor.com, and Homes.com. Some brokers disagree with this strategy. See why in this article from the March 2012 issue of Real Estate Broker's Insider.
September 2013
Six ways to make your listing presentations stand out — Call it the plague of PowerPoint. For years, the real estate industry has assaulted the public with listing presentations that are boring, banal, or just plain bad. The September issue of Real Estate Broker's Insider provides five tips for improving listing presentations. Here are additional ideas, which focus on the visual presentation.
August 2013
How to land FSBOs? Use systems to stay in touch — With prices rising and marketing times falling, homeowners again have been emboldened to try to sell without hiring a Realtor. The August issue of Real Estate Broker's Insider shares secrets for success. Here are more ideas from John Maloof author of Real Estate Agent's Guide to FSBOs.
July 2013
MLS executive says consolidation would help consumers, agents — While a nationwide MLS remains farfetched, the real estate industry would be wise to consolidate MLSs in a way that would make data more readily available to consumers, says Cameron Paine, chief executive officer of Connecticut Multiple Listing Service. Read his full report, The Future of the MLS.
June 2013
Broker gives agents higher splits for getting tattoo of company logo — At Rapid Realty in New York City, 38 agents have gotten tattoos of the company's green-and-black logo. We are reminded of other gimmicks covered in Real Estate Broker's Insider. Such as:
• A broker donning a hula skirt on a busy corner, and
• A $449,000 home listed for $1.
Near-death experience reminds RE/MAX founder of some fundamental lessons — The real estate crash proved wrenching, but it was nothing compared to Dave Liniger's near-death experience in 2012. Read an excerpt from his new book, My Next Step: An Extraordinary Journey of Healing and Hope.
Broker pays $45,000 in disability-discrimination case — In a reminder of the high cost of housing discrimination settlements, Coldwell Banker Residential Brokerage agreed to pay $45,000 after an agent passed along a seller's demand that his property not be sold as a group home for disabled people. Free HUD posters can keep discrimination issues top of mind for agents.
May 2013
To boost chances of recruiting success, create transition plan — As you ramp up recruiting for an improving market, don't forget the importance of a formal "transition plan" to help smooth the new recruit's move, says real estate coach Carla Cross in the May issue of Real Estate Broker's Insider. Cross shares a copy of her transition checklist with readers.
April 2013
Cold calling is frustrating work, but it pays off for some agents — Dale Lampertz shares details of a recent Baylor University study including the cold-calling script used by agents.
Broker's Twitter-like app lets agents market properties to each other — The April issue of Real Estate Broker's Insider discusses a new app developed by @properties cofounder Thaddeus Wong. Wong was also featured in a Broker-to-Broker profile.
Atlanta broker targets veterans — We covered the program at Better Homes and Gardens Real Estate Metro Brokers in the April issue and the program at RE/MAX Real Estate Concepts in September. Read the September article Looking for disciplined, driven agents? Try hiring former soldiers.
London is world's richest luxury market — Read the report Luxury Defined: An Insight into the Luxury Residential Property Market.
March 2013
Beta Brokers run their own media mini-empires — Video, social networking, and other savvy uses of digital media form a common thread among the companies named to Better Homes and Gardens' latest Beta Brokerages list. Learn more about the individual Beta Brokers at the BH&G website.
Century 21's Super Bowl ads get tepid reviews, but attention is the point — The March issue of Real Estate Broker's Insider focused on C21s goals for its super bowl ads. See the ads here.
German brokerage brings European style to U.S. offices — Brick and mortar offices are essential for Engel & Volkers. The sleek design and "welcoming vibe" make them real stand outs.
February 2013
Honesty and caring are key to sales success, brokers say — Before they racked up $1 billion in home sales in 10 years, Joseph and JoAnn Callaway were broke and inexperienced agents who didn't seem destined for success in real estate.
Then the couple stumbled upon their philosophy of "Clients First," and they saw their fortunes turn. The couple, retell the story in their new book, Clients First: The Two-Word Miracle. The February issue of Real Estate Broker's Insider provides highlights of their most important lessons. You'll find additional insights in this sample chapter.
January 2013
FSBO sales remain low, even with stronger market, NAR study finds — The 2012 National Association of Realtors Profile of Home Buyers and Sellers has been released. For additional highlights, not covered in Real Estate Broker's Insider, you may download the summary report.