> Home > Books, CDs, Gifts > Business Management
Real Estate Brokerage:
A Management Guide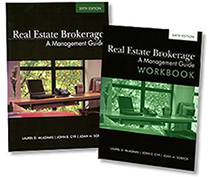 460-page guide,
76-page workbook, $66.50
This newly revised 6th edition of Real Estate Brokerage: A Management Guide was designed to offer both the experienced broker/owner and the novice a thorough and complete resource covering all aspects of modern real estate agency management. Sample documents are used extensively to supplement the text, and each chapter includes real-world examples and practical advice.
Highlights of this two-book set include:
Everything you need to master the five key steps to establishing a successful brokerage and staying on course: planning, organizing, staffing, directing, and controlling.
One-of-a-kind guidance on your personal development as an effective leader, coach, and communicator.
Real-world case studies from actual brokerage offices.
Strategies for profiting from the rapid changes brought about by the Internet, pagers, cell phones, electronic data management systems, and other technological developments.
A companion workbook that highlights and reinforces all of the key points in the management guide.
Table of Contents
Introduction
The challenge of change
The changing climate
Changing organizations
Changing operations
A final thought
Part 1: The manager
Leadership
Leadership versus management
Understanding yourself
Character of a leader
Leadership qualities
Social awareness
Management skills
Management styles
Managing people
Communications and decision making
The informational workplace
Pick your forum
Decision making
Part 2: Planning the organization
Analyzing the business environment
Economic factors
Political factors
Sociological factors
Analyzing the market
Analyzing business opportunities
Analyzing the competition
Analyzing your organization
Developing a plan
Planning rationale
Your business plan
Implementing a plan
Part 3: Organizing the organization
Structuring the organization
Legal ownership
Mode of operation
Mergers and acquisitions
Internal structure
Chain of command
Structuring business systems
Your office
Communications and information systems
Facilities management
Structuring the finances
The financials
Financial resources
General operating budget
Accounting
Business policies and procedures
Business ethics
Policies and procedures
Marketing and advertising
Market identity
The company's marketing plan
Marketing properties
Protecting the company's image
Part 4: Staffing and directing
The practical and legal realities of staffing
Personnel positions
Compensation management
Legalities of employment
Recruiting, selecting, and hiring the staff
Employment practices
Recruiting salespeople
Selecting salespeople
Professional competency
Orientation programs
Training programs
Business meetings
Retreats
Personal interaction
Additional opportunities
Coaching performance
Managing employees and independent contractors
Performance management
Performance appraisals
Retention
Resignation and termination
Part 5: Controlling the organization
Monitoring operations
Management information
Managing with information
Maximizing income
Minimizing expenses
Looking into the future
Managing risk
Protecting the institution
Risk management culture
Defense in risk management
Bibliography
Appendix
Glossary
Index
About the Authors
John E. Cyr, GRI, ALC, has been broker-owner of John Cyr Realtors Inc., in Stockton, California since 1959. In addition to his extensive teaching experience, he writes a weekly newspaper column on real estate issues and is an honorary life director of the California Association of REALTORS.
Joan M. Sobeck, GRI, CRS, has owned and managed her own brokerage company in Bergen County, New Jersey, since 1968. She was director to the National Association of REALTORS for 13 years, and has been past president of the New Jersey Association of REALTORS. She is coauthor of Essentials of New Jersey Real Estate.
Laurel D. McAdams, GRI, provides strategic planning services and is an advisor in organization development and human resource management. A licensed broker, she's taught brokerage and office management courses, and has done management and training consulting. She's also the coauthor of Pennsylvania Continuing Education for Real Estate Salespersons & Brokers and consulting editor for Modern Real Estate Practice in Pennsylvania.
Your Guarantee of Satisfaction
If for any reason you are not totally satisfied with Real Estate Brokerage: A Management Guide, simply return your books within 30 days for a complete refund.